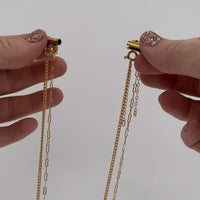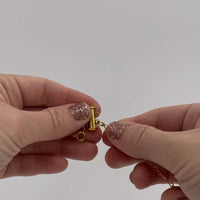 Introducing the Magic Layering Clasp:
Simplify and Elevate Your Necklace Game!

Enhance your style effortlessly with our innovative Necklace Layering Clasp, the perfect way to achieve that trendy layered necklace look without the hassle. Designed for convenience and elegance, this clasp is your secret weapon for creating stunning layered necklace combinations while keeping them tangle-free.

Easy to Use:
Say goodbye to complicated knots and tedious untangling sessions. Our Magic Layering Clasp is ingeniously crafted to make your life easier. Simply attach it to the clasps of your two favorite necklaces, and voila! You're ready to rock a beautiful layered look in seconds. No need for additional tools or expertise—anyone can achieve flawless layering effortlessly.

Secure and Tangle-Free:
Worried about your necklaces getting entangled throughout the day? Fear not! Our clasp ensures a secure connection between your necklaces, keeping them in place and preventing any unwanted tangling. 

Revolutionize your accessorizing game with our Magic Layering Clasp!

Your choice of silver or gold.