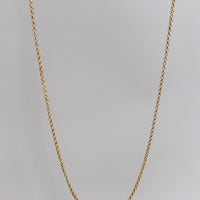 Introducing our enchanting dainty rollo chain, a delicate and versatile accessory designed to elevate your layering game. This exquisite chain is crafted with utmost care, ensuring a captivating blend of elegance and grace.

The dainty rollo chain exudes a timeless charm, featuring finely crafted links that delicately intertwine, creating a seamless and fluid design. Its slender profile adds a touch of refinement and sophistication to any ensemble, making it perfect for layering with other necklaces or wearing alone for a subtle yet captivating look.

Crafted from high-quality materials, this chain is designed to withstand the test of time, ensuring durability and longevity. Its lightweight nature adds to its comfort, allowing you to effortlessly wear it all day long, while its adjustable length provides versatility and a customized fit.

With its understated beauty and minimalist appeal, this dainty rollo chain effortlessly complements any style, from casual to formal, adding a touch of elegance and refinement to your outfit. Embrace the art of layering and express your unique sense of style with this captivating chain, a must-have addition to your jewelry collection.
Each chain is 16 inches and comes with a 1 inch extender, so you can choose the perfect length for you. Your choice of 14k gold filled or sterling silver.