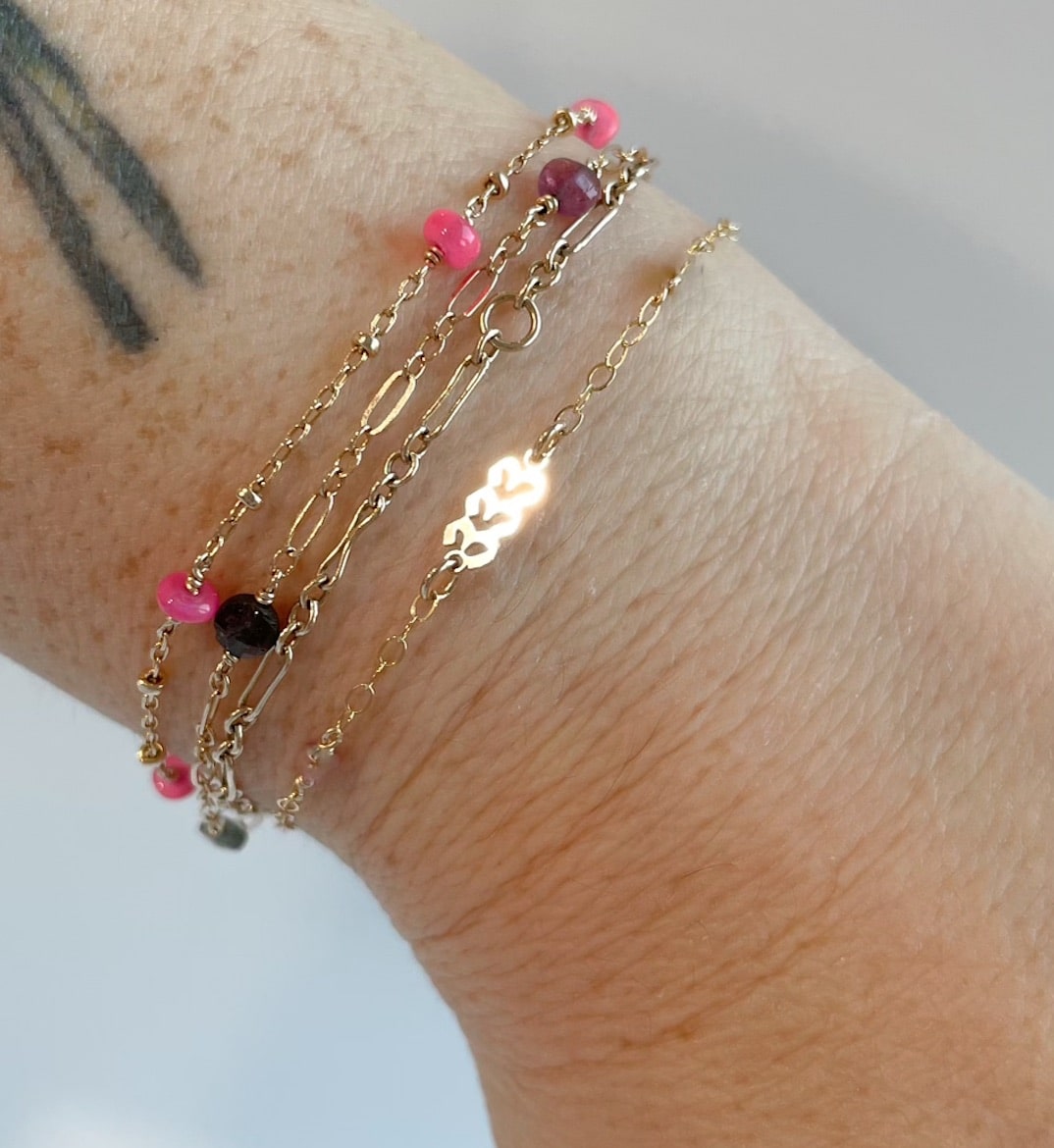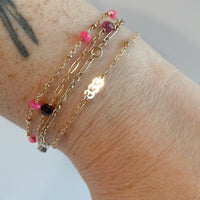 Dainty Angel Number Bracelet
Discover the magic of angel numbers with our Dainty Angel Number Bracelet. This unique bracelet is a meaningful way to connect with the spiritual realm. Each bracelet is adorned with a combination of angel numbers, carrying its own special significance. Wear this bracelet as a reminder of the divine guidance and positive energies surrounding you.


000: Symbolizes the infinite potential within you and the beginnings of a spiritual journey. It encourages you to listen to your intuition and trust the process of new beginnings unfolding in your life. A reminder that you are the creator of your own destiny.

111: Often referred to as a "wake-up call," 111 signifies alignment of your thoughts with the universal energies. It's a powerful reminder to maintain positivity and focus on your true desires, as they are quickly manifesting. It means that your intentions are manifesting quickly. Make sure you're focusing on what you actually want.

222: Represents balance and harmony in your life. It suggests that your intentions and actions are in sync with the universe, creating a sense of peace. Embrace the dualities in your life and find the equilibrium. Stop worrying. Everything is working out exactly how it is supposed.

333: A divine number that signifies the presence of your guardian angels. It offers comfort and guidance, reassuring you that you are protected and supported on your life's journey. It also means that you should continue to embrace your creativity. You will be successful in whatever you are working on.

444: An angelic message of reassurance and protection. It indicates that your angels are surrounding you, providing a strong foundation of support. Trust that you are on the right path.

555: Signifies significant changes and transformations on the horizon. Embrace these changes with an open heart, as they are part of your soul's growth and evolution. Huge changes are coming ahead. Trust that this transition is in your highest good.

666: Often misunderstood, 666 encourages you to balance your thoughts and actions. It's a reminder to release any fears or doubts and align yourself with the spiritual aspects of your life.

777: A highly spiritual number, 777 indicates that you are on the right path and that your efforts are supported by the universe. It's a sign of alignment with divine purpose. Luck is on your side. Keep doing what you are doing.

888: Associated with abundance and prosperity in all areas of your life. It suggests that your material and financial pursuits are in harmony with your spiritual purpose, leading to overall fulfillment. Financial abundance is on its way to you right now.

999: Represents the completion of a significant phase in your life. It's a call to release what no longer serves you, allowing for new opportunities and experiences that align with your higher purpose to enter your life.

Each bracelet is 6.5 inches long with a 1 inch extender. If you need a different size, just leave me a note when checking out!