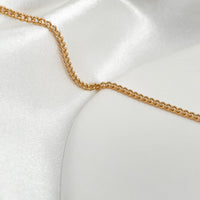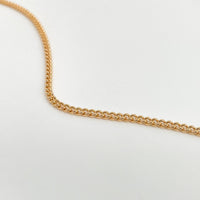 Our boldest and thickest layering chain and my personal favorite!
Introducing our daring and bold layering chain, meticulously crafted with a thick curb chain to embody an edgy and confident style. This striking accessory is designed to make a powerful statement and elevate your layering game to new heights.

The thick curb chain serves as the centerpiece of this fearless design, commanding attention with its strong and substantial presence. Its interlocking links create an edgy and urban aesthetic, showcasing a captivating blend of strength and attitude.

This chain is tailor-made for those who embrace their individuality and aren't afraid to push boundaries. Its edgy nature adds a rebellious touch to your ensemble, making a bold statement of self-expression. Whether you're looking to add an element of toughness to a casual outfit or amplify the attitude of a daring night-out look, this chain is the perfect choice.

Crafted with the utmost attention to quality, this layering chain is made from premium materials, ensuring both durability and longevity. Its substantial weight adds a confident feel, while the secure clasp ensures it stays in place during your everyday adventures.

Adorn yourself with this fearless and edgy layering chain, an embodiment of strength and attitude. Unleash your inner rebel, layer it with other necklaces to create a personalized and fierce style, or wear it alone as a statement piece. Embrace the boldness and let this chain empower you to make a lasting impression wherever you go.
Each chain is 16 inches and comes with a 1 inch extender, so you can choose the perfect length for you. Your choice of 14k gold filled or sterling silver.