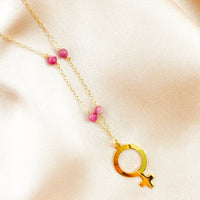 Power Pink Tourmaline Necklace
Our newest necklace puts the POWER in EMPOWERMENT.
Made with your choice of either sterling silver or 14K filled chain, featuring a female symbol charm and pink tourmaline stones.. this necklace is made to help any woman feel empowered! Each necklace is 16 inches in length, but we could make different sizes if needed so just send us a message!
Consisting of the astronomical and astrological symbol of the planet Venus, also known as symbol of the Roman goddess Venus. The Goddess Venus; functions encompassed love, beauty, desire, fertility, prosperity and victory.
Pink Tourmaline may vary in color from pale pink to light and dark purples to beige, and in clarity from flawless transparent gems to opaque rough crystals, yet all are devoted to serving the highest aspects of the heart. A primary stone of the Heart Chakra, Pink Tourmaline links to the Crown Chakra infusing love and spirituality, encouraging compassion and gentleness during periods of growth and changes as humanity works toward enlightenment.
Wearing Pink Tourmaline throughout the day helps release stress, worries, depression and anxiety.