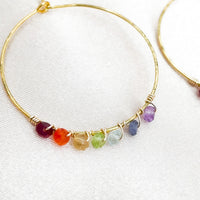 Rainbow Chakra Hoop Earrings
As seen on And Just Like That (HBOmax).
These chakra earrings are made with all the colors of the rainbow. They come in your choice of silver or gold. They have every stone you need to balance and heal your body, mind and spirit.
Stone sizes are approximately 3-3.5mm.
The stones on the hoops include:
Red Garnet
Carnelian
Citrine
Peridot
Aquamarine
Iolite
Amethyst
Pink Sapphire