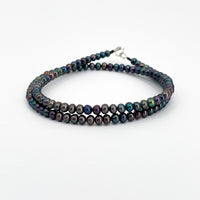 Witch's Shadow Pearl Bracelet
Introducing our "Witch's Shadow Pearl Bracelet" – a bewitching addition to our Spooky Jewelry Collection. This exquisite bracelet is adorned with lustrous black pearls, each one a symbol of transformation and protection. Black pearls are believed to carry healing properties, promoting balance and soothing the spirit. As you embrace the enigmatic allure of the night, let this bracelet be a reminder of your inner strength and resilience.
Please Note: This listing is for ONE Black Pearl Bracelet. Each Bracelet is 6.5 inches with a 1.5 inch extender, so you can find the perfect fit. If you need a bigger bracelet or longer extender, please just send us a message.