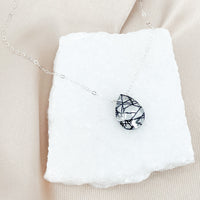 Tourmaline Inclusion Healing Necklace
This tourmaline inclusion healing necklace is dainty enough for everyday wear, but pacts a punch of healing properties and energy!
Tourmaline purifies one's own energies and protects from negativity, while Quartz amplifies energies focused through it. This combination makes Tourmaline Quartz a powerful shield-stone that, depending on the desired intent of the wearer, can amplify and return negative energy, like a mirror spell, or can convert the negative energy into positive energy for the wearer. It is full of protection as well!
These gorgeous inclusions are encased in clear glass. A perfect way to wear your tourmaline.